The Peachums have now officially left the building, but before we roll up our beautiful Hogarth backdrop we wanted to take one last look back at SmallStages 2019.
We've done 15 performances this Autumn, from Cwmbran to Colwyn Bay and Barmouth to Bridgnorth, and had a wonderful warm reception from more than 1200 people across Wales and the Borders.
As this show took 12 years to work its way from our Artistic Director's sketch book to the stage, we thought it was worth a minute to look back on this year's remarkable tour.
Here's a tiny selection of just some of the fabulous feedback below
"The show was brilliant. The singing, the acting, the costumes, the stage design – all excellent and music, what a treat to have such a fantastic professional opera show in Llandinam, more please"
"Beautiful singing, great acting and memorable set. Loved the unusual quartet – love the bassoon. Makes me want to see more live opera" – Abermule
"Excellent fun, ribald, bitter and sweet all rolled into one…clever and very entertaining." – Barmouth
"A wonderful introduction to opera, such an expressive artform. Inspired to come following your visit to my granddaughter's school (never seen an opera before)". – Barmouth
"Loved the way it felt as if we were back in the 18th century – a lovely blend of hardship and humour with great singing and accompaniment". – Aberdovey
"This was a stunning evening in every way. MWO made such skilful use of limited resources. The professionalism and imagination of both concept and performance are admirable". – Blackwood
"It was absolutely delightful to see such a wonderful performance and hear beautiful music in our small rural town" – Bishop's Castle
"Down and dirty, sad tragic fun" – Presteigne
We've toured through floods and snow (on the way to Theatr Felinfach) sunshine and showers, and enjoyed brilliant reviews "slickly enjoyable" The Guardian
"To say that the Studer/Lyness conception is flawless is only a tad over-stated. Lyness's score, based on the opera's songs, is an absolute joy of miniaturisation, replete with sophisticated stylistic borrowings. " Nigel Jarrett, Wales Arts Review
"if there's one thing that this company does supremely well, it's putting on an entertaining show. This isn't English National Opera. If you're in the business of taking opera to Abermule and Llandinam, you either give your public a great night out or you fold." Richard Bratby the Arts desk

Thank you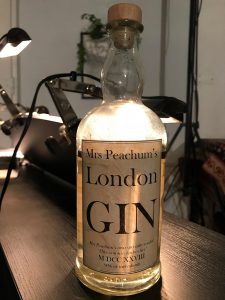 So thanks to everyone who joined us on the road, hosted shows, put the kettle on when we arrived and stuck up posters on shop windows and lamp posts right across the country.
But the biggest thank you to team Mrs P – singers, musicians and crew, costume team, set builder and scenic painter!
SmallStages touring is tough, with a different venue every night and lots of driving in between. We've loved every minute of working with them. So cheers – and we hope you get to enjoy a glass of Mrs Peachum's special cordial.
" I'll give thee a most delicious Glass of a Cordial that I keep for my own drinking."