With less than a month to go until opening night in Newtown on March 4th we caught up with the stars of our first ever production of Hansel and Gretel in rehearsals.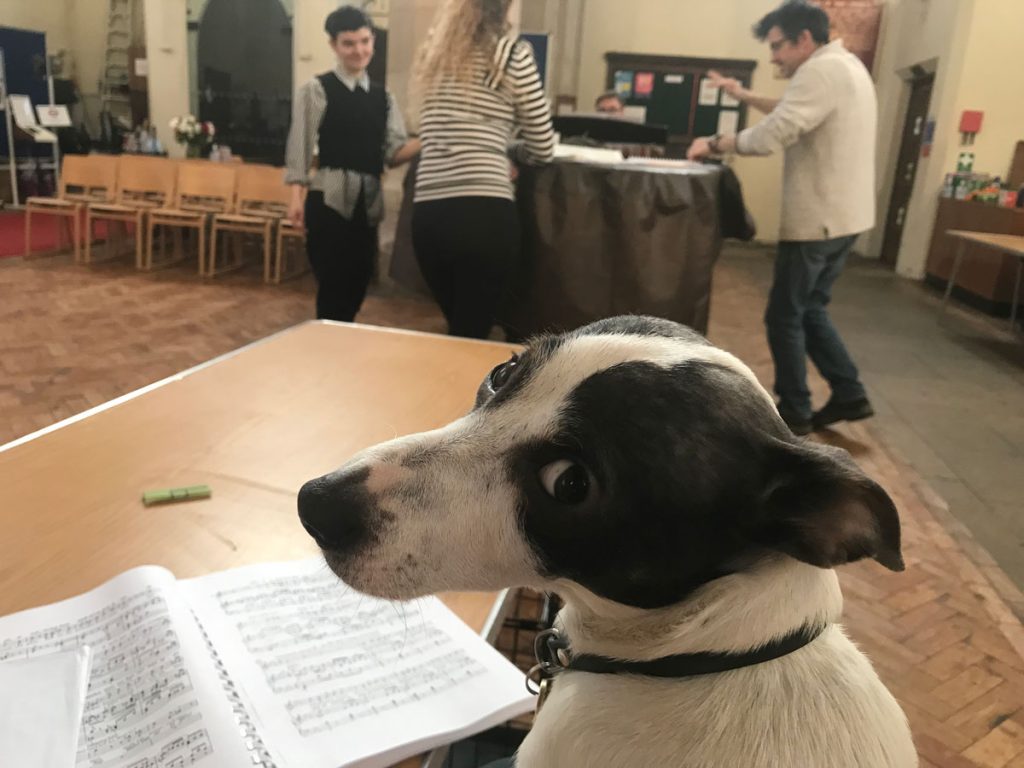 We're working with some familiar faces – including soprano Alys Mererid Roberts and baritone Philip Smith, our Princess and King from this Autumn's Puss in Boots tour who carry on their father/daughter relationship as Gretel and her Father. We're also delighted to welcome some newcomers to MWO including Plymouth born singer Charlotte Badham who is joining us as Hansel.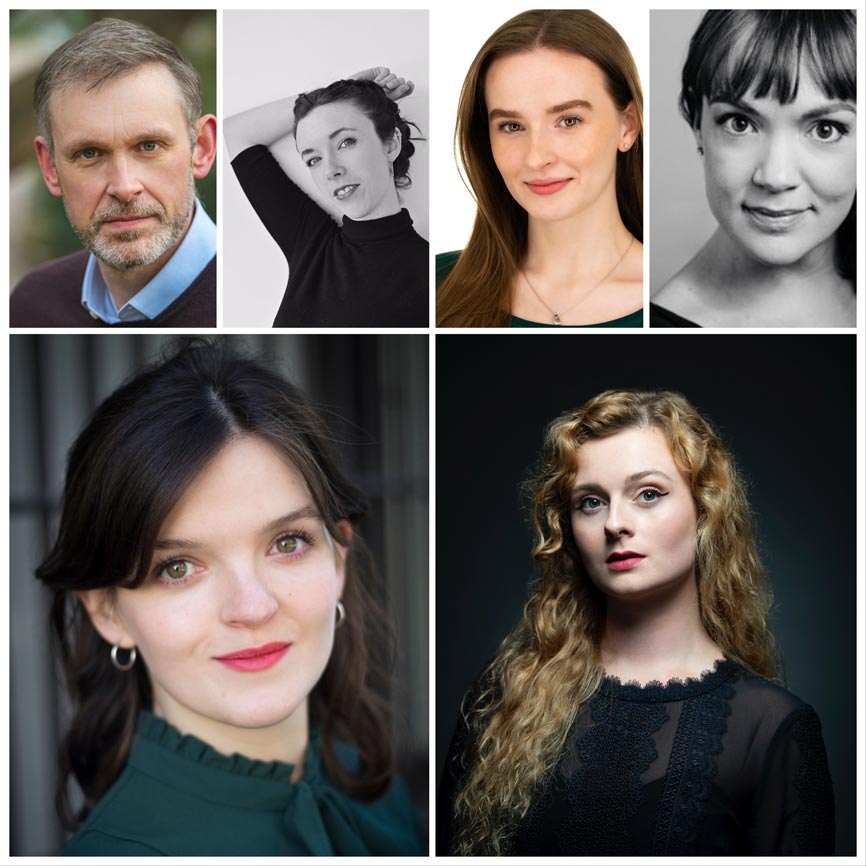 Charlotte grew up with folk music, and Hansel was her first leading role in college so she is thrilled to be joining our company to perform this folk-inspired fairytale opera. She told us: "The piece is littered with folk-inspired music themes which really appeals to me as a singer – I've grown up listening to a lot of folk and you can often find me at a sea shanty festival in deepest, darkest Cornwall.
"One of the folk tunes that Gretel sings at the top of Act II was the first song I learnt with my first ever singing teacher at the age of 7 – I'm a bit sad Hansel doesn't get to sing it but it's still a bit of a full circle moment."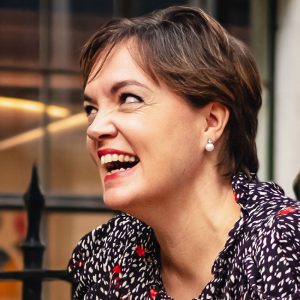 We're also thrilled to be joined by Montgomeryshire-based mezzo soprano Rebecca Afonwy-Jones, making her stage debut with Mid Wales Opera, and her first ever appearance at her home theatre Hafren, Newtown.
Rebecca, who grew up in Montgomeryshire and still lives just 12 miles from Newtown, has sung for prestigious companies across the UK and beyond. She regularly visited Hafren as a child and has supported friends appearing in MWO's previous performances – but never performed there herself. She joins us in the twin role of Mother/Witch and returning to her, and our, home county of Montgomeryshire to sing in her first MWO production.
Rebecca told us:- "When I was a child we used to see all kinds of things at Hafren and I have watched various BBC NOW concerts and of course MWO shows to support colleagues in the past but I have never performed there. Given that it's the nearest theatre to my home – about 12 miles! – it will be a lovely occasion and I think a few local friends and relations might find their way there to cheer us on!"
Hansel and Gretel is based on the Brothers Grimm's fairytale, two children are banished to the enchanted woods by their hungry, frustrated mother. When their father returns and learns of their whereabouts, he reveals to their mother the true terrors of the gingerbread Witch, and the two of them hurry out to find them.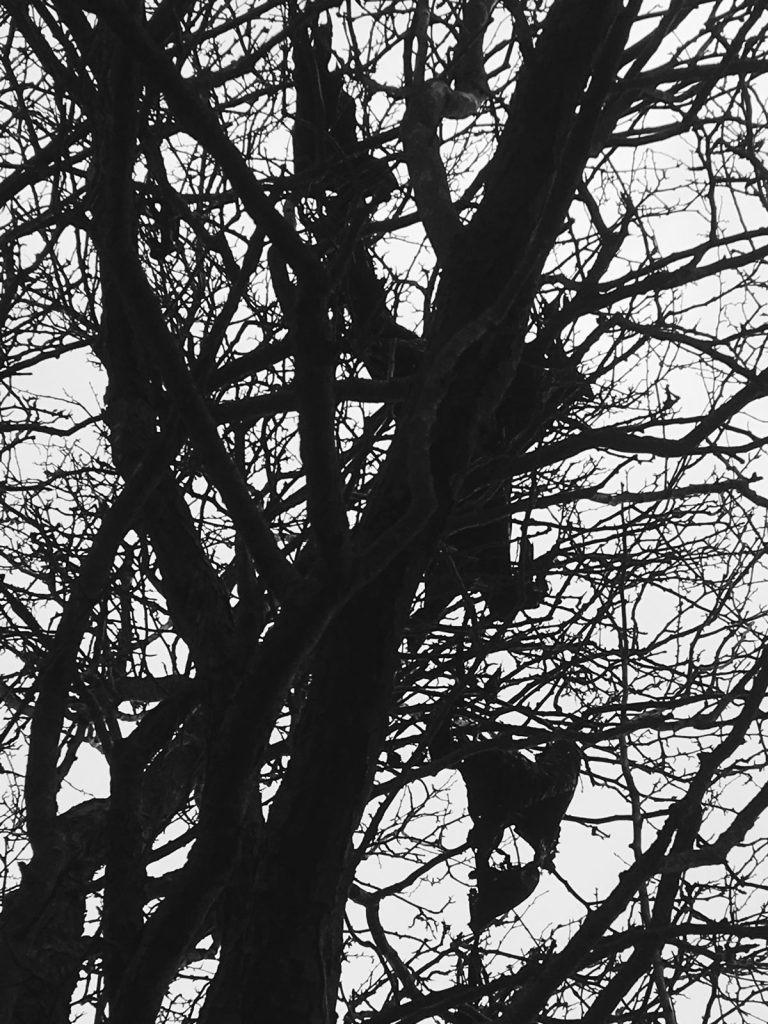 Meanwhile, out in the woods, the two children get lost before wandering into the clutches of the Witch who is determined to fatten them up and turn them into gingerbread. At the last minute the Witch is outwitted, and the gingerbread figures that surround the Witch's house are revealed as dead children waiting to be brought back to life.
North Walian soprano Siân Roberts, who grew up in Rhos-on-Sea, is also making her MWO debut, performing as The Dew Fairy in Humperdinck's fairy tale opera Hansel and Gretel in Pontio in Bangor.
Sian told us: "I love North Wales and am back there as often as possible now to see my family, I really think there is nowhere more beautiful! My role is the Dew Fairy! I wake the children from their sleep and welcome the morning. Although it's only small, it's such a fun role and fulfils a childhood dream – who didn't want to be a fairy when they grew up?!"
MWO will be joined in all our venues by children from local choirs and theatre schools, performing the opera's children's chorus in a new Welsh translation by MWO regular, tenor Robyn Lyn Evans. Our first children's chorus will be from Newtown based MA Theatre School who performed to a sold-out audience at their and our home theatre last month for their 'Stand Up to Cancer' fundraiser.
Melanie Jayne Lee who runs the Musical Arts Stage School classes at Newtown and Welshpool, offering young people aged four to 18 training in acting, dance and singing is thrilled that her children have been asked to be part of the opening night performance: "what an opportunity" she told us.
Our professional performers are excited to be joined by the stars of the future on stage – Swansea-based Rachel Morás, who last performed with MWO as the Witch in our OpenStages community production of Dido and Aeneas at Easter 2019 and is covering the role of Witch as well as joining us as chorus, told us: "It's lovely that the children are going to be joining us, it's going to add something really special to the production,  I think they're going to be so excited to join in, it's going to be lovely to see."
Rachel is eager for the adventures ahead – and looking forward to sharing them with our audiences across Wales and the borders. She told us: "There's so much to be excited about with Hansel and Gretel, the wonderful, familiar story, the beautiful music that sweeps you along from scene to scene.
"The adventure they have, the dangers they face, there's fun and excitement,  and I love how they outwit the witch and save themselves through their cunning and courage. I love how beautiful and atmospheric the music is, how it manages to be beautiful while also conjuring up the danger of their situation and such delicious wickedness in the exciting Witch's Ride. It's a great piece full of adventure and hope."
Hansel and Gretel opens at Hafren, Newtown on Saturday March 4th and will be touring Wales as well as visiting the Courtyard, Hereford throughout March. All the dates and details are on the Hansel and Gretel page. The production is suitable for children aged 8 and over.