Welcome to London's underworld in the 18th century. To quote Star Wars' Obi Wan Kenobi on
the subject of Mos Eisley spaceport. "You will never find a more wretched hive of scum and villainy. We must be cautious."
The world of John Gay's The Beggar's Opera, and of Mrs Peachum's Guide to Love and Marriage, is far from the conventional courtly world of fashionable opera of the period. The house of the Peachums is home to a gang of thieves, highwaymen and prostitutes and that's what made it a sure-fire hit.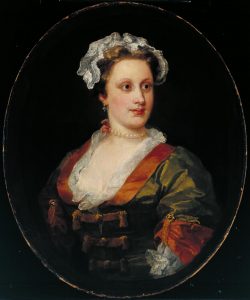 When it opened in 1728 The Beggar's Opera was an instant success, and its combination of popular tunes and a satirical depiction of the criminal underworld made it the most popular drama performed in the 18th century. Early productions also brought with them their own drama and scandals – one of the stars of the original show was Lavinia Fenton, the first Polly Peachum and later to become Duchess of Bolton!
According to the Tate:
"On 29 January 1728 Lavinia Felton gave her first performance as Polly Peachum, the lawyer's daughter, in John Gay's The Beggar's Opera (1728), a role which guaranteed her subsequent fame.
"Today, Lavinia's most celebrated appearance is in Hogarth's painting of the prison scene from Act III of The Beggar's Opera, where she pleads with her father for the life of the highwayman Macheath.
"Foremost among the admirers of her performance was Charles Paulet, 3rd Duke of Bolton (of Golden Grove, Carmarthenshire and MP for Carmarthenshire), who can be seen to the right of the stage in Hogarth's painting, exchanging glances with her. Bolton apparently fell in love with her at first sight. She became his mistress, bearing him three sons. Eventually, on the death of his wife in 1751, the Duke married Lavinia."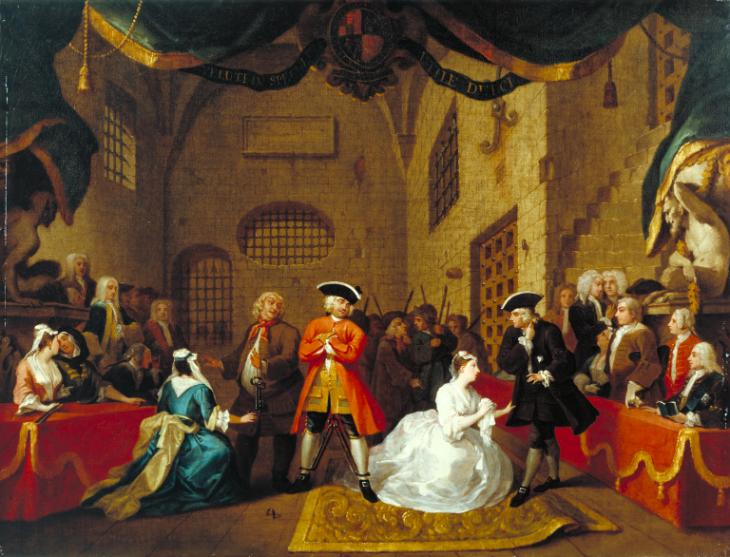 For more details follow the link: www.tate.org.uk/art/artworks/hogarth-lavinia-fenton-duchess-of-bolton-n01161
---
The Cast of Mrs Peachum's Guide to Love and Marriage
As our tour opens, we caught up with our very own Peachum clan to see what they make of their roles as a band of ne'er do wells!
Mrs Peachum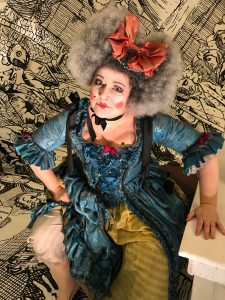 First Mrs Peachum, played by the wonderful Carolyn Dobbin who was last seen with MWO as the vodka swilling, eye lash batting Madame Popova in Walton's The Bear.
Carolyn told us:
"I love the idea of this woman and I'm taking on lots of the original character…. she's the boss, and she's formidable! She's such a real character and while Mrs Peachum's quite unlikeable she's also quite funny too… and I love Jon's music. He's made the songs quirky, interesting and a lot of fun! "
Richard Bratby, The Arts Desk on The Bear:
"Carolyn Dobbin, as Popova, has an extraordinarily flexible face, emoting grandly before the portrait of her dead husband, then pouring herself another vodka with a sly smile – a very merry widow indeed, with a sunny, flexible mezzo that could convey both steely hauteur and a deepening tenderness."
Beggar/Filch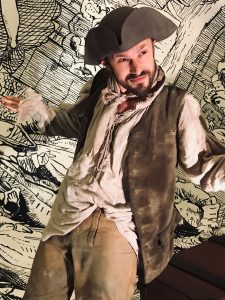 We also caught up with Johnny Herford, our Beggar/Filch to find out how he's taken to the life of a pickpocket. Johnny told us:
"Something that I am enjoying is how unusual it is to make an opera like this – using a text and tunes from three centuries ago to create something completely new. That said, the sharp edges of the original haven't been blunted at all by age! My character, Filch the pickpocket, seems to enjoy his life – although since his boss is always calculating whether there's more profit to be made in having employees executed than in employing them, he can't afford to get too comfortable."
"Johnny Herford plays the hapless hero with an endearing bewildered charm."
Telegraph, Rupert Christiansen
"Johnny Herford's excellent Josef K, gradually disintegrating from assured bank president to terrified wretch. MTW's cast hurl it all out with relish."
The Times, Richard Morrison
Polly Peachum
Polly is played by Welsh soprano Alys Mererid Roberts who has performed with Mid Wales Opera most recently in MWO's Tosca tour as the Shepherd Boy/Chapel Boy. We met up with Alys at the dress rehearsal today for a quick chat:
"Polly is very romantic and naïve, but she has quite a feisty side to her and some real fire in her belly. She's got married without her mother's consent and it causes no end of trouble. The relationship she has with her mother is difficult to say the least and Filch regularly gets stuck between the two of them.
"I'm really excited that this is the first time this version of The Beggar's Opera has ever been performed and it's amazing how Richard has managed to condense various characters and still keep the story but add his own nuances."
What's it like on MWO's SmallStages tour?
MWO's SmallStages tours truly break the mould in terms of traditional opera touring, visiting small theatres and community halls where the audience is very much 'up close and personal'.
Johnny told us:
"It's a very special situation to perform in a place where the audience can see all the facial expressions on stage, and you can see the audience's reactions too. And there's something timeless about a portable show – you feel connected to a very old tradition."
Carolyn adored her experience touring with The Bear on our first SmallStages tour and can't wait to get back on the road. She explained:
"I loved touring around Wales, it's is so beautiful and I'm always open jawed at the scenery.  My sat nav seems to only want to take me on the longest routes to venues, down narrow lanes and over mountain tops… but I'm quite glad of that!
"One of the best things about touring at this scale is meeting the locals, some have never been to operas before so you have to be ready for any strange reactions from audience members… I remember one venue where they cracked open their beer cans and were heckling throughout!! It was hilarious!! Also exploring the little independent shops and staying in stunning villages! "
Mrs Peachum's Guide to Love and Marriage has been a long time in the making, since our Artistic Director Richard Studer first directed The Beggar's Opera in 2005 for West Green Opera – but it's going to be a real treat – and if laughter is the best medicine then Mrs Peachum may be the cure we all need to 2019's very own winter of discontent.
Mrs Peachum's Guide to Love and Marriage – opens at Llandinam Village Hall (in partnership with Hafren, Newtown) on Thursday November 7th!