As we prepare for Autumn's SmallStages tour of A Spanish Hour, Ravel's L'heure espagnole, we've asked MWO's Music Director Jonathan Lyness to share some of his insights into the piece and its history. Each of our SmallStages productions uses a new arrangement by Jonathan with reduced orchestration, in this case for just four musicians, allowing us to tour to places where other companies cannot perform.
Once again we're taking live opera into the heart of communities – and we're starting as we mean to carry on, in the heart of Wales with a world premiere of both the new arrangement and a new translation by our Artistic Director Richard Studer taking place at Theatr Llwyn in Llanfyllin on November 9th!
Two of French music's most celebrated compositions are inspired by the music of Spain: Georges Bizet's opera Carmen and Maurice Ravel's orchestral showpiece Bolero. Spain became an allure for many French composers throughout the late c19th and early c20th and Ravel in particular wrote Spanish infused works throughout his life, most notably in the year 1907. As well as his one-act opera L'heure espagnole (based on Franc-Nohain's highly successful 1904 play of the same name) there is the Vocalise-étude en forme de Habanera and the Rhapsodie Espagnole for two pianos (which he later orchestrated). Ravel started work on L'heure espagnole in May and worked fast – his father was ill and Ravel wanted him to hear it. On 6th July he was able to play the first draft of the piano score to Albert Carré, director of the Opéra-Comique. Carré asked to hear it again but wanted Ravel to make some changes (apparently he found the subject matter at bit close to the bone, ironic as Carré himself was a notorious womanizer). By 15th October the score was finished and early in the new year Ravel went back to see Carré. According to Ravel, Carré was less than positive:
"On 14 January [1908] I put on my Toledo voice and go off to see Carré with Bathori [Jane Bathori, mezzo-soprano and performer of several of Ravel's works]… I hum even more out of tune than usual, start by breaking three notes on a tin-pot piano, let Bathori loose on the difficult arias, and we await the final decision: Refused… Impossible to impose a story like this on the innocent ears of the Opéra-Comique's regulars. Just imagine: these lovers shut up inside clocks and being carried up to the bedroom! We all know what they're going to do up there!!… I see now… that the worst fault of Carmen, Manon [etc.] was picking their noses too much."
Despite the rejection, Ravel's final piano score of the opera was published later that year and he went on to complete the orchestration during 1909. Carré was finally persuaded to allow the opera to be performed at the Opéra-Comique and in May 1911 it received its premiere. Ravel supervised rehearsals, and it was performed nine times, but then not again at the Opéra-Comique until November 1945.
Musically speaking, the substance of L'heure espagnole comes from the orchestra (or rather, for these performances, the chamber ensemble). Ravel himself wrote that he'd wanted to:
"breathe new life into the Italian opera buffa… the French language has its accents and inflections of pitch… I wanted to express irony through the music above all, through harmony, rhythm and orchestration, and not, as in operetta, through arbitrary and ridiculous verbal pyrotechnics."
The result is a separation between the declamatory style of the vocal lines and the melodic richness of the accompaniment. Ravel even went so far as to write a 'Note pour l'exécution' at the front of the published score:
"Apart from the final quintet and, for the most part, the role of Gonzalve, which is affectedly lyrical, the singers must declaim rather than sing (short ends to phrases, glissandi etc.). Almost throughout it is the quasi-parlando of Italian buffo recitative."
This makes Gonzalve the odd one out, being the only one singing lyrically as he enters the crazy world of the clock-shop where, as some have observed, the clocks appear to be more human than humans. Ravel reportedly wanted Gonzalve to be a flesh and blood character rather than a puppet. However, the problem for Gonzalve is that he struggles to portray genuine passion through the refined sensibilities of his music as contrasted with the quick-fired utterances of Concepcion. His entrance is ridiculous and wonderfully funny to boot; as he reaches the end of his opening song (celebrating the moment when he can finally be with his beloved), Concepcion makes the mistake of uttering his name with great depth of emotion (!) only for Gonzalve to begin his song all over again, as if in the tradition of a da capo aria. This clear 'send up' of operatic tradition forced Carré at the Opéra-Comique to think carefully as to which opera L'heure espagnole should be paired with in performance (at its premiere it followed Massenet's somewhat formulaic Thérèse which in hindsight was clearly an error).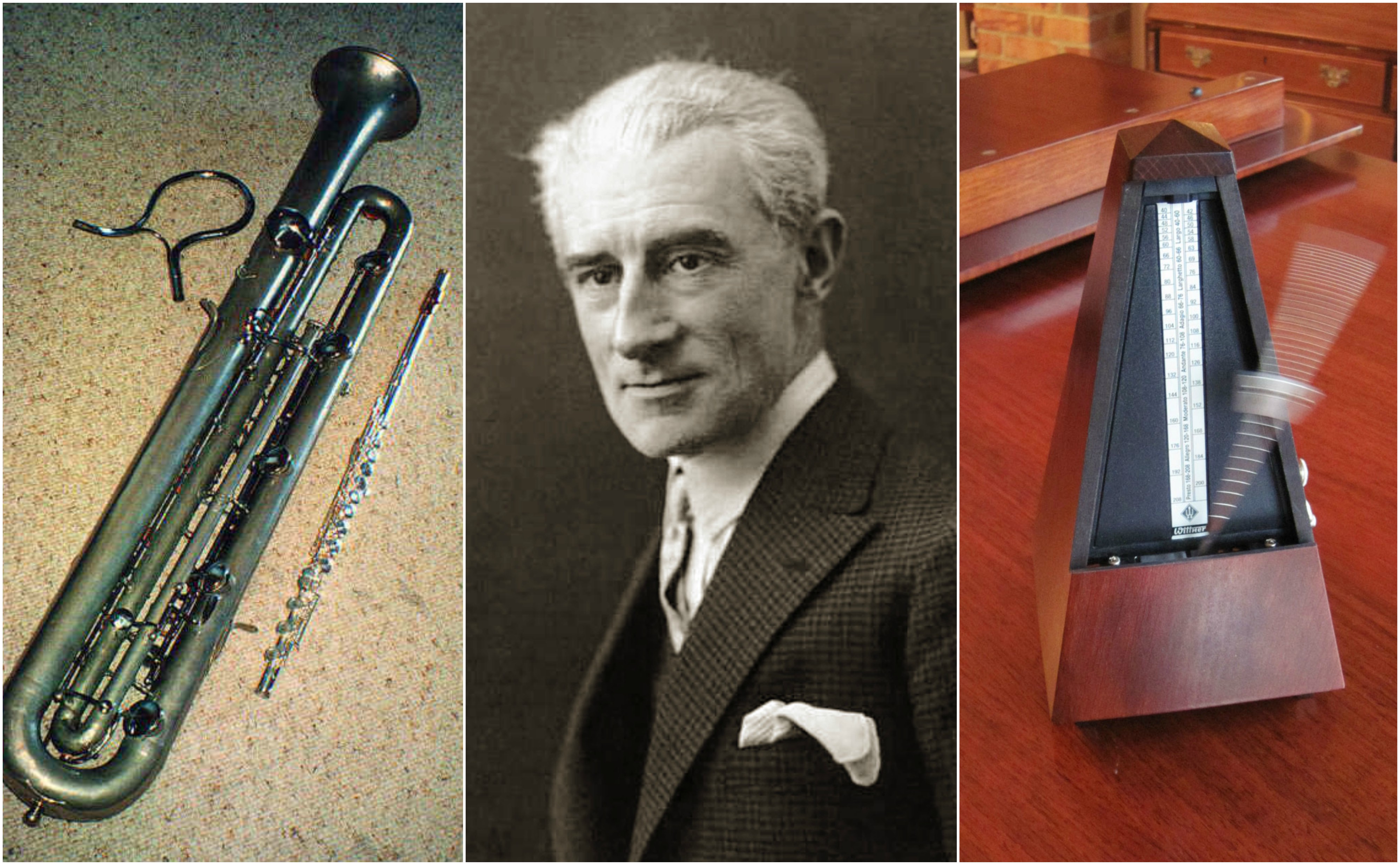 Ravel's orchestration of L'heure espagnole is extraordinarily complex. The full score is a mighty colossus, employing a huge orchestra in a full range of pyrotechnics throughout. The strings alone are asked to play harmonics, glissandi, 'glissandi harmonics', ricochet (a controlled bounce of the bow) and with the stick (ie, with the wood of the bow). Cross-string pizzicato chords are asked for that, while technically possible, are difficult to accomplish. The percussion section is exotic and includes three metronomes, set at the beginning of the opera at different speeds so that they coincide every 15 seconds whilst fully independent from the gently undulating music of the introduction (good luck with that, one may say). Rare instruments make an appearance, most notably the sarrusophone (best described as a cross between a contra-bassoon and a tuba). With this instrument, Ravel characterises Don Inigo, delivering towards the end of the opera his bottom D (which Inigo impotently fails to sing). And at the beginning, Ravel instructs the sarrusophone player to remove his reed and "play the rhythm, as high as possible, as loudly as possible, without worrying about the notes"!
Throughout the score, the detail is mindboggling. The composer Francis Poulenc, sitting at the piano in 1944 with full score on one side and piano score on the other, described it as a "dangerous example" of orchestration; "When you don't have Ravel's magical precision, which alas is the case with me, you have to set your music on sturdy feet". I feel his pain! I have spent 18 months at the piano with the full score on one side and the piano score on the other side, considering how to solve problem after problem in my chamber arrangement of this fantastical opera. As always with such projects, I started from the top of the score and worked methodically through before finally settling on the new instrumentation – piano, violin, bassoon and harp, with each player taking on some elements of Ravel's 'clock-shop' percussion. I regret to say that, for these performances, the inclusion of a sarrusophone was never going to be a practical proposition but, as I sit at the piano, I have asked the other three players to each take responsibility for a metronome. Please wish them luck.