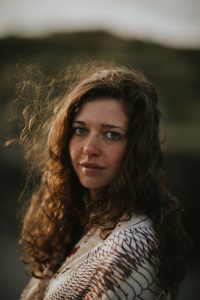 As part of our Cerddoriaeth eich Milltir Sgwâr programme, Singer-Songwriter Eve Goodman has been sharing stories through songs with her community in Y Felinheli on the shores of the Menai Strait. You can listen to some of her lovely new work on her website www.evegoodman.co.uk.
Here, Eve tells us about Glyn's story and provides the lyrics of the song she wrote inspired by their conversations:
I was introduced to Glyn by another friend in the village called Sue. As a retired boatbuilder and music enthusiast, I warmed to him straight away. We had a wonderful conversation about craftsmanship, music and history, and got to talking about his beloved 19th century piano, which to him is an embodiment of all three of these things.

He learnt the piano as a young man from watching his father, a natural musician who was blessed with 'a good ear, rhythm, and soul' as Glyn puts it. Glyn picked up these skills from watching his Dad and learned to play by ear himself, never quite mastering the art of sight reading.

I can relate to this very much, as I have learnt to play by ear myself, and formal notation just looks like dots on a page to me. We bonded over this, and the song I wrote for Glyn was born out of this idea of playing music from the heart rather than from the page. We likened this approach to sailing; the unpredictability of the sea and the instinctive relationship one can build with a boat, the sea or an instrument can be so rewarding and healing, and hard to put into words.

The song was written in the middle of the pandemic, and talks about music being a wonderful escape from reality. Just like sailing, in many ways. The links and the parallels between music and the sea led me to write this song. Glyn loved the song, and could relate very much. Jonathan Lyness from MWO kindly transcribed my recording of the song to piano, and now Glyn has a copy of the notes sitting proudly on his piano, should he wish to practise his sight reading.
Music Like the Sea
Words and Music by Eve Goodman
Verse 1
Sail away on my piano
I'll weather out this storm
Just like me, she's still in key,
I'll set her sail and go
Pre-chorus
Sail away
I'll weather out this storm x2
Verse 2
Father knew just how to move
Through music, like the sea
He spent his days in sound waves
He passed this on to me
CHORUS
Music is an ocean
I'll lose my heart at sea
Music heals what's broken
It is a part of me
Pre chorus
Instrumental
Verse 3
I read the music note by note
A basic melody
I feel it deeply in my bones
But I lack the fluency
Verse 4
Instead I play it from my heart
I let the music flow
The melody is like a wave
Who knows where it will go?