Once a year we send Team MWO back to school, taking over the curriculum for a full week and working with children in a primary school to create their own opera from scratch.
After two years without a school residency project because of Covid restrictions, it was an absolute pleasure to take over a week's worth of classes for 44 Year 5 pupils at Newtown's Ysgol Penygloddfa to help them write a script and songs and create costumes for The Adventures of Frankie the Fox.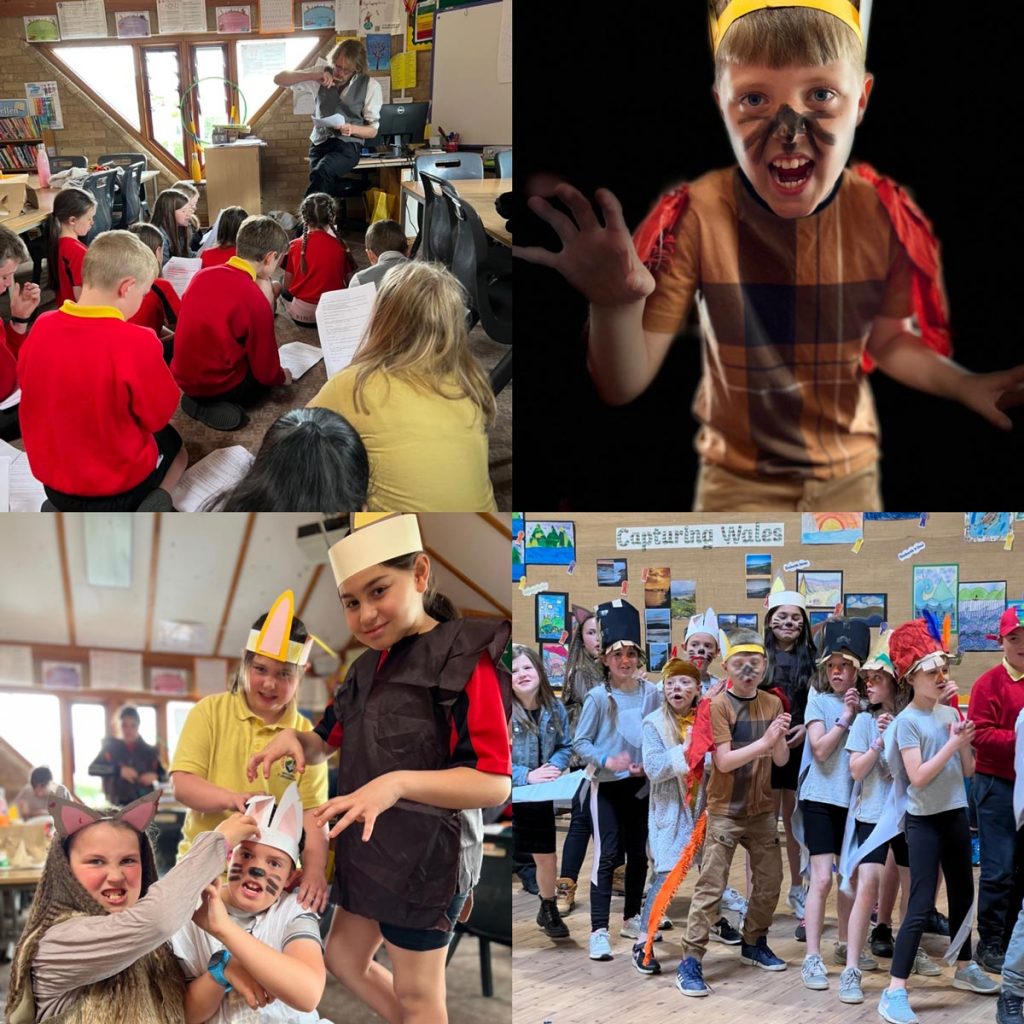 The week started with our Artistic Director Richard Studer sharing his cartoon sketches, loosely based on Janacek's The Cunning Little Vixen, and the story of a fox who gets lost. The children chose the themes of the fox's adventure – and created characters including calypso-style karaoke coyotes, colourful lizards, rascally rats and posh pigeons on the roof of Number 10 Downing Street. They worked in groups to create songs with our Music Director Jonathan Lyness, singing their own melodies at the piano and working in teams to ensure the music fitted their lyrics and characterisation.
We also borrowed and rewrote songs from some of our favourite shows, so our fox's musical journey ranged from The Teddy Bear's Picnic through Gilbert and Sullivan's Rollicking Band of Pirates, Bernstein's Candide and Kurt Weill's Lost in the Stars.
At the end of the week's hard work, the children performed their show for the school's younger pupils and then for their parents. We were honoured to be the first performance for parents in the school since the pandemic. Everyone did a magnificent job, their teachers were a model of tolerance and support and between us all we were enormously proud of the pupils' efforts.
It's not all fun and games. We work with staff to evaluate the week against curriculum priorities around extended writing, teamwork and negotiation skills and the Expressive Arts curriculum. But it is a wonderful week and the class teacher told us: "the kids have had a fantastic week and produced some amazing work, their energy has been fantastic and the practice performance I saw was brilliant"
Some feedback from pupils:-
"I loved learning all of the songs, my favourite song that we learned was the pirate ship one and I loved making the script and making the play"
"I really enjoyed doing the show and it was really fun, I really enjoyed working with all the people in the opera and I enjoyed the songs we did"
"I loved everything really, I love singing, acting, writing and everything else we did"
This year we worked with soprano and music teacher Maria Jagusz and education and workshop leader Rebecca Wallbank. Our Artistic Director directed the show and helped with the scripts, our Music Director composed the songs with the children and played the piano. Our Executive Director set to work on costumes, and we all raided our scrap baskets to help the children create top hats from cardboard boxes, pigeon's wings from scrap material and hedgehog outfits with pegs and paper bags. We also worked with the children to avoid the use of plastic and non-recyclable materials.
This year's residency was funded by an incredibly generous individual donation. Each school residency week costs in the region of £3500. When you see us collecting change in our bucket at the end of one of our opera performances, that money is going towards education work such as this residency. You can also donate here.
As a company we're passionate about music education for all children. Each Spring we work with singers and musicians to deliver half-day opera workshops in Powys and Pembrokeshire, and next May we plan to be in another Powys school, working with teachers to take over their classes and turn their school hall into an opera rehearsal room – it's hard work for everyone but it really is one of the highlights of our working year.
We'll leave the last word to the children:
"It was the best experience of my life to be with you all"
We'll take that, and a massive thank you to everyone who took part in this year's residency.