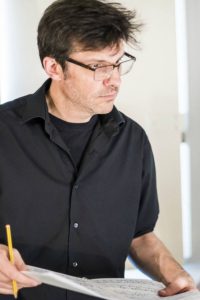 We're celebrating being back on stage with one of opera's greatest love stories, La bohème, which concludes our Puccini in Paris Season.
It's time to meet the real bohemians of this timeless tale of love, loss, and longing. Our Music Director Jonathan Lyness is just the person to bring them to life for us in this blog.
La bohème, Puccini's fourth opera, was premiered in February 1896 at the Teatro Regio in Turin, conducted by the young Arturo Toscanini. Fifty years later, aged 78, Toscanini conducted it again in a famous performance with New York's NBC Symphony orchestra that was broadcast and recorded live and is available to listen to now on Spotify! I conducted La bohème for the first time aged 28 in a venue somewhat smaller than the Teatro Regio – the tiny Italianate cloisters of Iford Manor in Wiltshire in one of that venue's earliest summer opera seasons. Perhaps I'll conduct it again when I'm 78…

Henri Murger's Scènes de la vie de la bohème – Scenes of Bohemian life – were published in instalments between 1845 and 1848 in a magazine called Le Corsaire. At this time, Murger lived in an attic room in Paris's Latin Quarter; there he was visited by the playwright Théodore Barrière, asking if he could adapt the Scènes into a play. Word has it that Murger greeted Barrière in bed because he'd lent his only pair of trousers to a friend who needed them for a job interview! The two of them collaborated to create La Vie de Bohème, first staged in 1849. Two years later Murger published the Scènes as a somewhat rambling novel and it was both the play and the novel that provided the source material for Puccini's opera.

Henri Murger's Scènes de la vie de la bohème

The Bohemians constituted a disparate community of struggling Parisian artists of the time or, as Murger defined them, "an apprenticeship for artistic life – the preface to the Academy, the hospice or the morgue". Murger's Scènes are lightly autobiographical, the main protagonist being Rodolfo who is a representation of Murger himself. Like Murger, Rodolfo lives in an attic room, though not in the Latin Quarter but in Montmartre; he is described as having a dense beard of various shades and a hugely bald forehead, which ties in perfectly with surviving images of Murger himself. Murger edited a fashion magazine Le Moniteur de la Mode; likewise, in the novel, Rodolfo is editor-in-chief of two fashion magazines and has also written a play, Le Vengeur, a copy of which we see him throw joyously into the stove to keep it going at the beginning of the opera.

Henry Murger in 1857

Murger's other main characters are also based on real people. The painter Marcello is a composite of the novelist and art critic Champfleury (a room-mate of Murger's and frequent visitor to the Café Momus) and two painters – Marcel Lazare and François Tabar. Tabar worked for several years on a great historical painting The Crossing of the Red Sea before finally a steamboat was added, its name changed to In Marseilles Harbour and it ended up as a shop sign above a grocer's. This is the picture we find Marcello working on at the beginning of the opera before it turns up as the inn sign in Act 3.

And so it continues. Colline, the philosopher, is based partly on Jean Wallon, a theology student whose ecclesiastical coat was invariably stuffed with books, and partly on the mysterious Trapadoux, nicknamed 'The Green Giant' because of his enormous height and ancient black greatcoat that had faded to green. The musician Schaunard is based on Alexandre Schanne, a painter turned composer turned toymaker, who Murger renamed Schannard and who eventually became Schaunard only because of a 'typo' from the original printer! In the novel he composes on a piano with an out-of-tune D, a detail which Puccini reproduces in Act 2 of the opera whereby Schaunard buys a hunting horn with a D of questionable intonation, depicted in the orchestra by a clash of D-flat and E-flat!

Mimi has several sources. One was a seamstress Marie-Virginie Vimal, the author's first love who was blue-eyed, fair and gentle with small white hands. Unfortunately for Murger she ran off with one of his best friends. Another source for Mimi was Lucille Lovet, nicknamed Mimi, who contracted tuberculosis and died young. In the novel, Murger has Mimi use and abuse Rodolfo for several months before she heads off for someone richer. For the opera, Puccini and his librettists romanticise Mimi almost beyond recognition, though famously maintaining her small white hands and adjusting her real name to Lucia.

Finally there is Musetta, derived partly from one Marie Roux, the mistress of Champfleury and a model popular amongst the painters and sculptors of Montparnasse, whom Murger nicknamed 'Mademoiselle Bagpipe' on account of the fact she sang out of tune. The other source for Musetta was a certain Madame Dupont who made no secret of her countless love affairs. The Café Momus, where Musetta makes her celebrated appearance in Act 2 of the opera, was a real establishment of the same name, located at No 15 Rue des Prêtres Saint-Germain-l'Auxerrois. The Café went out of business in 1856 and became an art-suppliers. The actual building is still there today, though it's lost its curiously shaped wall at the top where the Momus sign was. There's even a café next door, at No 13 – Café L'Auxerrois – if anyone's interested!

Colin, Marchand de Couleurs, photographed in the 1860s

Café Momus, watercolour by Henri Lévis, late 1840s

The opera's Café Momus scene is one of the most well-loved and best-remembered scenes in all opera and is depicted widely on posters and musical scores. Murger has his characters sit inside the Café (as the Bohemians did in real life), but Puccini places them outside along with all of the hustle and bustle of the street. The scene lasts some 20 minutes within which time-frame it packs a mighty punch, finishing with a few minutes of great excitement as a military band passes by with a tune based on an authentic French march. Puccini's inspiration here is to merge the tempo of Musetta's famous waltz with the tempo of the ensuing March, an almost impossible construct made exquisitely brilliant by the composer as long as the conductor engineers the tempo of the fading of the waltz to perfection, so that the side drum that introduces the March starts at the correct speed.

La bohème Act 2, excerpt

The Café Momus scene can be considered the opera's Scherzo! When I was a student, one of my tutors Professor Raymond Warren was interested in the idea of 'opera as symphony' and cited Puccini amongst the greats in this respect. If La bohème is an operatic symphony, in 4 acts (or 4 movements), then Act 2 is its Scherzo and Act 3 its Adagio slow movement. Act 4 is the symphony's Finale, in two main parts, preceded by an introduction in which Rodolfo and Marcello reminisce over their past loves. Then, Part One is a vigorous Allegro in which all four boys feast, party and play games, whilst Part Two opens dramatically with the arrival of Musetta announcing that Mimi is at the doorway and on death's door. This final part of the opera is another Adagio (a favoured last movement choice for the late romantic symphonists). When Mimi draws her final breath Puccini ensures that only the audience knows it, the orchestra giving the clearest of signals. Mind you, I've conducted one performance where the Mimi, so involved was she in the dramatic process, lost her way and her place in the music – the only occasion in which I've known of a tenor whispering coarsely to his leading soprano 'just die' live on stage! I don't think anyone in the opera house knew.
Our MainStages tour of La bohème opens at Theatre Hafren, Newtown on Saturday 5 March 2022.