On Thursday 17 March Mid Wales Opera performs La bohème at The Riverfront, Newport with BSL interpretation by Julie Doyle.
Sign Language Week runs from 14-20 March. The annual celebration, organised by the British Deaf Association (BDA), promotes awareness of issues affecting sign-language users and the welfare of deaf people in the UK.
The theme for Sign Language Week 2022 is: 'BSL Brings Us Together'. The aim of the campaign is to encourage people of all ages across the UK to take up the challenge of learning BSL for themselves and finding out more about the language and culture of the Deaf, Deafblind and hard of hearing British people for whom BSL is their first or preferred language.
Follow the campaign across social media using the hashtag #SLWEEK2022 and tagging @SignatureDeaf and @BDA_Deaf
'Funny. Tragic. Heart-wrenching'
La bohème begins in the student garret of four struggling bohemians: a poet, a painter, a musician and a philosopher. It's Christmas Eve in Paris; although the friends have very little, they share a wonderful friendship and you can't help but laugh along with them as they playfully goad each other.
When their neighbour Mimì knocks on their door, their lives are changed forever. The romantic beginnings of the timeless love story of Mimì and Rodolfo soon give way to something darker. It becomes clear that Mimì is desperately ill and the poet Rodolfo cannot provide for her.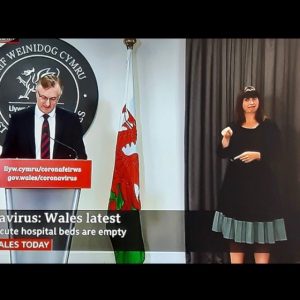 Tickets & Information
The performance begins at 7.30pm. It ends at approximately 9.35pm, including a 20-minute interval. At The Riverfront, tickets are priced £17 / £19 (concessions available).
Tickets may be booked using Relay UK via a smartphone, tablet, computer or telephone. If you need assistance booking your tickets, or have any questions, email riverfront.boxoffice@newportlive.co.uk
The Riverfront Box Office: 01633 656679
Would you like to find out about future performances with British Sign Language interpretation?