In honour of MWO's first ever production of Humperdinck's classic opera Hansel and Gretel which opens at Hafren in Newtown on Saturday 4th March 2023 and then tours Wales and the Borders, we're running our very own MWO Bake/Make Off.
In Humperdinck's opera, the children Hansel and Gretel are sent off into the woods by their exhausted mother and wander into the clutches of the wicked witch, tempted by her house made of gingerbread and sugary treats.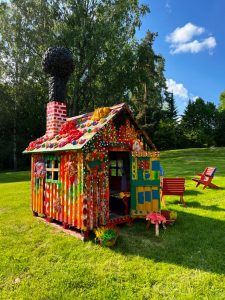 We want you to send us photos of your own versions of the witch's gingerbread house. Your houses can be made from ready-made gingerbread pieces or biscuits you've baked at home, from paper, cardboard or whatever else you come up with. They can be miniature masterpieces of life-size log cabins – as long as you can send us a photo capturing your creation.
They need to be as super shiny as possible – the more bling in your baking/making, the better it will resemble the witch's house in the story. We've asked our Artistic Director Richard Studer to judge the entries. Richard designs all our productions and is a printmaker with a gallery in Presteigne. Our lucky winners will get two tickets to a performance of Hansel and Gretel at a venue of their choice on our tour. We will also have a separate category for entries from anyone under the age of eight who might be too young to see the show.
You can send in your photos by emailing marketing@midwalesopera.co.uk or by tagging us on Facebook, Instagram or Twitter. The winning entries will be chosen at the end of January so you have plenty of time to get baking and making.
For those not familiar with the story of Hansel and Gretel, it is based on the Brothers Grimm's fairytale. The opera opens with Hansel and Gretel dancing and avoiding the chores their mother has asked them to do at home. Frustrated by their shirking and the mess they have made she banishes them to the enchanted woods, without realising the dangers that lurk there. When their father returns and learns of their whereabouts, he reveals to their mother the true terrors of the gingerbread Witch who lives in the sweetie-covered cottage in the woods, and the two of them hurry out to find them.
Meanwhile, out in the woods, the two children get lost before wandering into the clutches of the Witch who is determined to fatten them up, get them in the oven and turn them into gingerbread. At the last minute the Witch is outwitted, and the gingerbread figures that surround the Witch's house are revealed as dead children waiting to be brought back to life.
This new production of Hansel and Gretel, the first ever by Mid Wales Opera, is directed and designed by MWO's Artistic Director Richard Studer. The opera is sung in the English translation by David Pountney, with a cast of eight professional singers, together with a chorus of children assembled locally for each theatre. Humperdinck's lush orchestral score, performed by MWO's partner orchestra Ensemble Cymru, is conducted by Jonathan Lyness who has also created a new orchestration of the work especially for this production.
Hansel and Gretel opens at Hafren, Newtown on Saturday March 4th and will be touring Wales as well as visiting the Courtyard, Hereford throughout March. The show contains scenes of mild peril and a wicked witch – we're suggesting it is suitable for children aged 8 and over although obviously it depends on the child. We will come up with a special prize for winners under the age of eight with a suitably sweetie theme!
Ready, set – bake and make – and remember to tag us on social media posts or email your entries to marketing@midwalesopera.co.uk by the end of January.