We're exactly halfway through our 16 venue tour of The Bear and it really has been an adventure so we wanted to share some of our stories of life on the road so far and give you a sneaky peak of what goes on behind the scenes!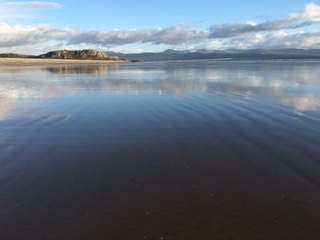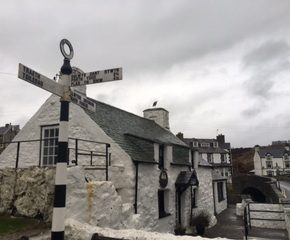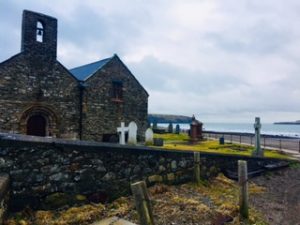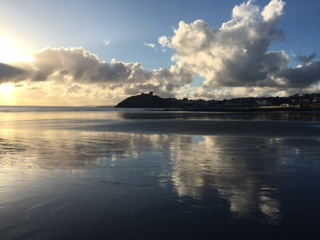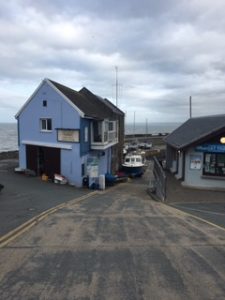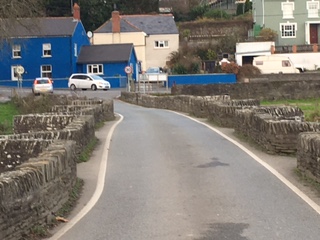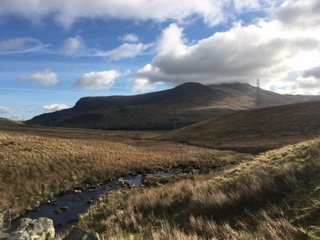 We've braved 50 mile an hour winds in Aberdaron, and watched the sun on the sea as the storm cleared in Criccieth the next day!
We've opened a closed hotel in Aberdaron for the night – thanks to The Ship Hotel for your brilliant hospitality – shared dinners before shows – thanks to The Lion in Llandinam, Abermule Inn and The Goat in Llanfair Caereinion, The Lion in Criccieth and one of our Board for a wonderful picnic feast in Denbigh.
Our wonderful Popova, Carolyn Dobbin, has been taking photos as we travel and shared some of her thoughts with us about the tour so far:
"I see it as an adventure, exploring absolutely beautiful parts of Wales. I'd forgotten just how stunning it is. I'm doing my two favourite things, singing a role I love and driving, walking through breath-taking scenery. Both are a treat for the soul …and I get to work with gorgeous generous relentlessly hardworking people who work at MWO…. Jon, Richard, Bridget, Lydia….what's not to like about this tour?

"The only thing I'd say is trying to keep healthy and well especially during the period of daily shows. I just try to stay quite fit as much as possible, get a great night's sleep, eat healthily, and drink lots of fluids. "
For the musicians too, the SmallStages model is proving to be a very different way of touring. We're exploring places where opera companies would never normally venture but as our Music Director Jon Lyness says the navigation is easy – the SatNav will tell you "Bear left" and "Bear right" at regular intervals.
For our harpist Ruth Kenyon and percussionist Max Ireland there is a car full of instruments to negotiate as well as a new venue each night.
Ruth explained:
"It's a bit like extreme harping…finding the venues down tiny little lanes, fitting the orchestra into small spaces ..plus effectively each of us is a soloist in an ensemble this size. One thing I won't forget was moving the harp in strong winds in Aberdaron where someone had to stand on the other side to stop it blowing over."
Max is more used to touring with the mighty WNO orchestra on the road, so our SmallStages performances really offer a different way of working. He told us:
"It's quite tricky having to get in and out every day into small venues….I have lots of instruments so it's a bit of a challenge. It's also a challenge looking after instruments which need to spend a lot of time in the car as we travel about.

It's been nice to come and do something on a completely different scale from my usual work with WNO. One thing that's been lovely is getting to spend time with everyone – the arrangement is pretty intense but I've really enjoyed the experience."
For our violinist Judith Choi Castro and bassoonist Alexandra Callanan one of the most memorable aspects of the tour has been the range of venues and acoustics. Judith told us: 
"We have to get used to the new acoustic and new set up every day – we need to be very flexible for that. The arrangement is very challenging and I need to play the viola as well. But I like the travelling and discovering all the new towns."
Alex added:
" Each venue has its own challenges but that makes it exciting and every show is different but in a good way as well. There has to be a very high level of company rapport to make it work – and we need to be very flexible and patient and accommodating."
We've also faced some logistical challenges, singer Matthew Buswell, Luka in The Bear, arrived in Aberdaron through the storm to find his tyres had gone flat! He explained:
" The car was towed to Caernarfon. Fortunately, as we were in Criccieth, before leaving the peninsula, on the Tuesday, I could collect the car. Everyone was really helpful but I've discovered locals class an hour's drive as 'just down the road!"…
Matt's loved discovering new places on tour as well. Favourite moments?
"The music hall in Aberystwyth (with a great audience!) and the gorgeous memorial hall in Criccieth. I loved the drive from Criccieth to Denbigh. With sunny weather the scenery is stunning."
We asked Carolyn what she had discovered about Wales touring with this show? Her answer sums up our experiences beautifully.
"The lovely warm friendly people and their beautiful Welsh language, I've learnt a few important words – Diolch, cwtch, cariad – amazing mountains beaches and scenery."
We agree – diolch yn fawr cefn gwlad Cymru! The Bear tour continues until December 3rd – join us – find out more about our tour of The Bear.