We'd usually write an end of the tour blog….so while the tour of The Marriage of Figaro ended prematurely we thought we'd still share some of our thoughts about what has been an absolute joy of a production from start to finish.
There are some shows which you can tell from the beginning are just right – the right cast, players and crew and striking the right note with audiences from opening night.
It seems an age ago that we opened our tour, amid floods and high winds, at Hafren in Newtown on February 29th. The car park was flooded, the roads were barely passable, but more than 400 people still made it to opening night.
Our lovely friend Sue Best of Shakespeare link told us:
"what a TREAT on a blizzardy night to hear glorious music and terrific band and brilliant sets and frocks and colourful speedy production – so many lovely moments and thanks so much you guys for giving us a FABULOUS FIGARO so close to home. And it was a lovely bonus to see so many friends in the house. Lucky us!"
Erika Indra added:
"The best production I ever seen in every detail. The scenery, the direction, the conductor, the brilliant singers and musicians were creating such magic, my heart is still singing. I want to Thank everyone for their part in it. The stamina, talent needed from the singers and musicians is phenomenal.  We made the 80 miles round trip battered and weary by the storms and life, came out glowing by the heavenly sounds. Made me think how simultaneous arguing discord made magnificent harmonies! We should learn to argue like that!"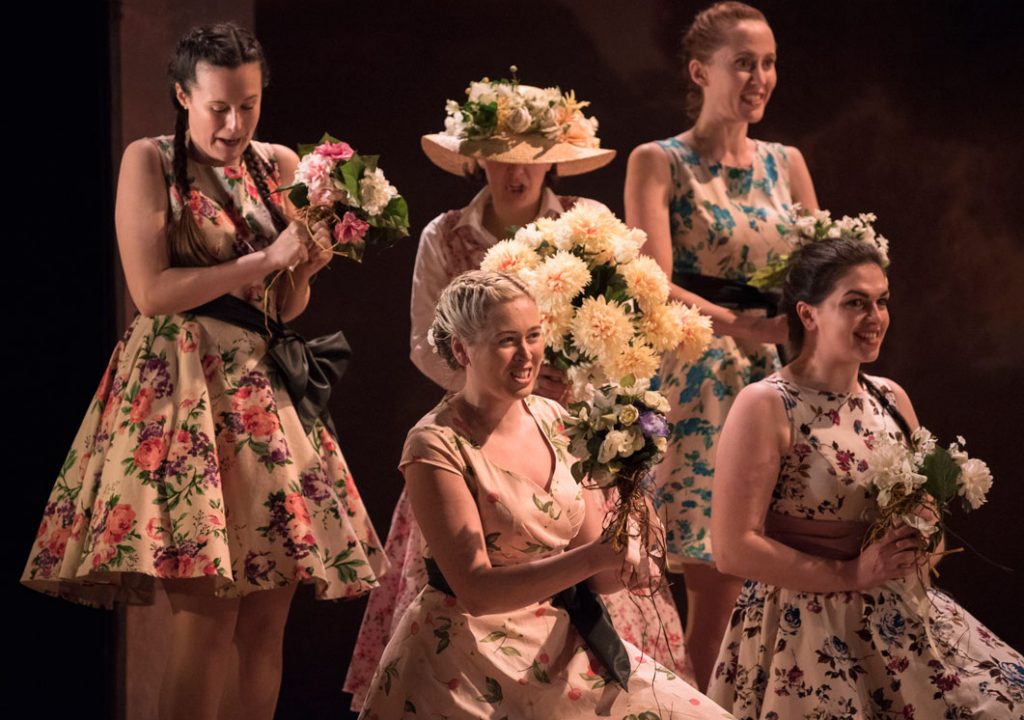 Our second performance in Brecon was another glorious evening… Theatr Brycheiniog is a wonderful venue for live opera and we were delighted to see some familiar faces as well as new fans.
"Big thanks to you all. So few productions square the tense circle of a clutch of some of the best-known arias in the history of western tradition and the fact that the brilliantly absurd story is subversive and terribly funny. The pit and the singing were terrific but so was the cast's acting and the VERY clever and attractive set. A great production" Facebook feedback from Brecon
The production went on to be seen by Stephanie Power in Aberystwyth, who gave us a four star review in The Stage (www.thestage.co.uk – read the review), and by Hugh Canning of the Sunday Times in Theatr Clwyd (www.thetimes.co.uk – read the review).
However, by the time we reached Bangor on Friday 13th March it was clear things were changing. On the evening of March 13th we performed a glorious free Operatif concert in Pontio to six people plus our cast. The show really did have to go on – our trainee repetiteur Aeron Preston was being assessed for his playing as part of his college course at Wales International Academy of Voice so we spent an intimate evening listening to fantastic, life-affirming singing from Jana Holesworth, Harry Thatcher and Joelene Griffiths and filming Aeron's hands for his assessment as he played – and then adjourned to Dylans in Menai Bridge for a much-needed morale-building supper.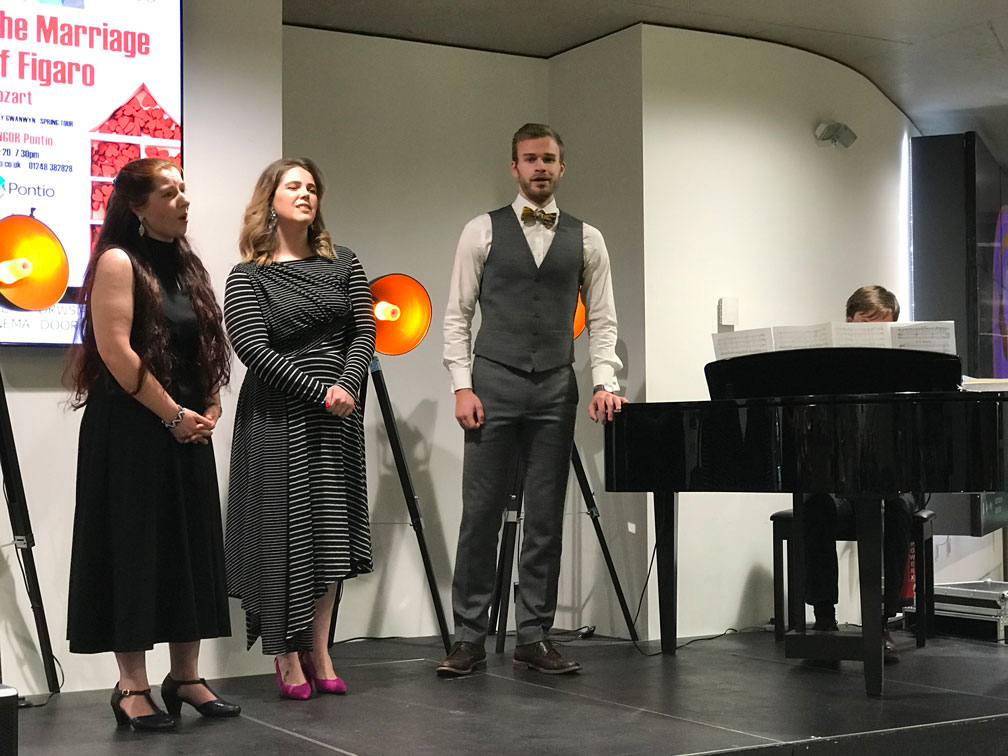 Aeron was one of four student repetiteurs who joined us as part of our partnership with Wales International Academy of Voice, providing real life touring experience to their student singers and musicians. One of MWO's key roles in the world of opera has always been to support young artists and it's wonderful to see young performers joining our more experienced cast members and making their way in the industry. Our Figaro, Harry Thatcher and Countess, Jana Holesworth are both young artists, our Cherubino Olivia Gomez graduated last summer and our Barbarina, Stephanie Smith is still a student at Wales International Academy of Voice, as are our brilliant chorus members.
Some of our funding support is specific to our work with young singers, so we need to collect feedback about what we're doing right and what we might do better – this from Jana Holesworth made us particularly proud:-
"Mid Wales Opera absolutely makes a tangible difference to young artists. I got my first professional employment working in the Chorus for MWO and have now performed my first lead role with the company. Mid Wales Opera allowed me the opportunity to learn and grow from working with and observing others further along in their career, and supported me through the development of my career until such time that I was ready to take the next step. They are a nurturing company that teaches and fosters growth in young artists in the best way possible."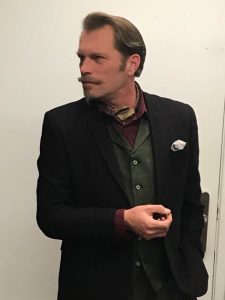 Our final performance in Bangor was a unique occasion – by this point our Count, Benjamin Bevan had a vocal issue and wasn't able to join us. Baritone Philip Smith sang the role from the side of the stage and our Artistic Director Richard Studer was magically transformed into a very suave and sophisticated Count Almaviva. Bangor is home territory for our amazing orchestra Ensemble Cymru – we get six company tickets per show and these normally go to cast and members' friends and family but in Bangor they went to the musicians and it was great to share our final show with their relatives as well as Pontio's audience.
This tour has been extraordinary in many ways. On Monday March 16th the Prime Minister advised everyone to avoid crowds including theatres, by the Tuesday morning our tour was cancelled and everyone was on their way home to their families and friends from Scotland to Suffolk, Cardiff to London.
Since then we've been busy doing the kind of work audiences never see – emptying the truck and carefully storing our set and costumes, doing maths and talking to the Arts Council of Wales about our grant.
Because of a change in Arts Council guidelines due to the Coronavirus crisis, we've been able to pay all our singers, musicians and crew to the end of their contracts. That's a huge relief for us as a company and for the 40 or more freelancers whose work was cancelled when the tour ended so abruptly. We miss them all: from singers and stage management to musicians and student chorus, they've been a great team.
Performing live opera locally across Wales and the borders is what we do, and will continue to do as soon as we can. For now, we've cancelled or postponed all our work until the Autumn, and are planning to be back on the road with a SmallStages production of Puccini's masterpiece Il tabarro in November, followed by La bohème in the Spring of 2021.
These are tough times for the arts – and in particular for touring companies like ours. We've done the right thing by our freelance performers for Figaro but we're not sure what the future holds for MWO as a company. If you can donate to support us through these tricky times please do – and the best way to support us and, any touring company, as we come out the other side of these difficult days is to come and see our shows.
For now, life is moving on-line and we're increasingly reliant on distant contact and digital media. That's wonderful and we'd be lost without it – but it cannot replace the power and immediacy of live performances, the unamplified sound of the human voice and the glorious sound of chamber musicians playing some of the finest music ever written. So for now – donate if you can, stay safe and enjoy the world of opera on screen or recordings.
We'll see you soon – and in the meantime here's our excellent gardener Antonio (Mark "look my geraniums" Saberton) proving that when amazing creative people find themselves with time to spare they just get more creative! Enjoy
With love from MWO