Our Artistic Director Richard Studer and Music Director Jonathan Lyness have been working together for more than 20 years. But how did their partnership come about and how do they work together to bring an opera from scores and sketches to the stage?
Clare Stevens interviewed Jon and Richard at the Presteigne Assembly Rooms on October 29th on behalf of Mid Border Arts, giving their audience a real insight into how the process of making opera works. Here are some extracts from the interview.
Jon explained how they first came to work together as students in Bristol:
"Richard was going to be a vet and I was going to be an engineer, I would have been a terrible engineer and my heart always lay in music."
"I met Richard in the first term because we were in the same halls of residence – the first show he was doing then was the Mikado, set in a modern Japanese nightclub, and I played piano in rehearsals. I switched to doing music after a year and got more involved in the Bristol music scene as a violinist and pianist – our first show together was The Tales of Hoffmann in 1993.
"The first box office was a cupboard in our flat and the show was funded through the last of our student loans but miraculously we broke even."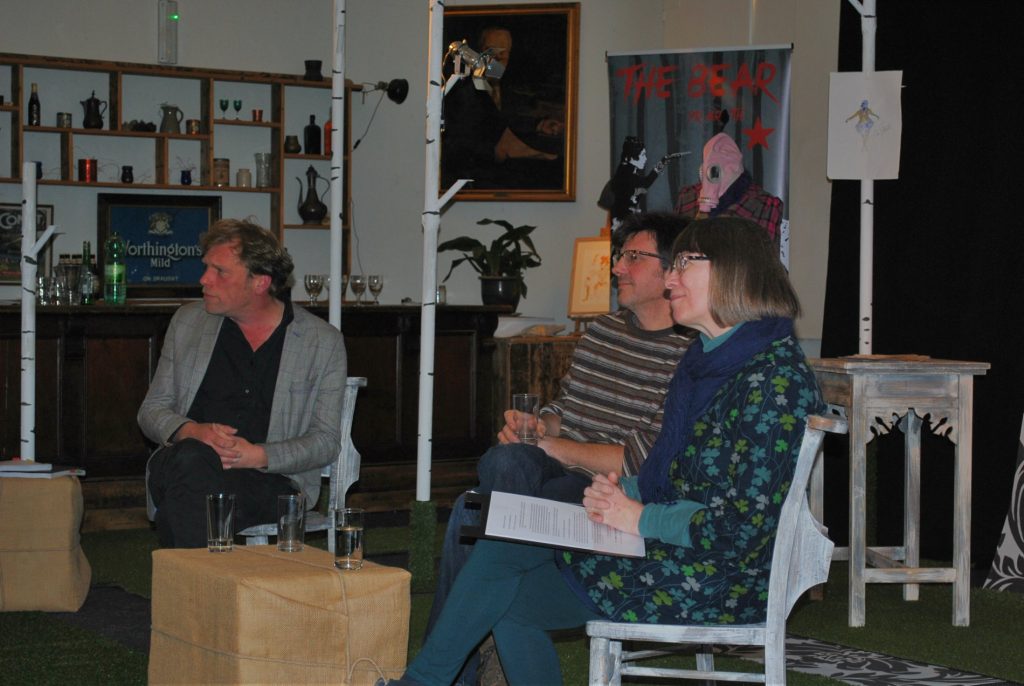 Richard explained how the way their shows have evolved over the years:
"At first we started working in traditional proscenium arch theatres presenting fairly traditional opera – then we started exploring opera in the round and were invited to make a show at Iford, in some stone cloisters in the round which was a whole new way of working. "
These days Jon and Richard present opera across the whole spectrum of performance venues from country house opera festivals with picnics to the more edgy urban setting of The Tobacco Factory in Bristol – and now with Mid Wales Opera's SmallStages tour in churches, small theatres and village halls.
Jon followed on with:
"We started working in the Tobacco Factory in 2003 and it's a far more edgy space, a black box theatre in a warehouse in the middle of Bristol. What I love about it is the diversity of the audience – it is just not an opera audience, and has a great mix of people in terms of age and demographics. It's also performed in the round, so the audience is looking across at each other and everyone is engaged because of the immediacy of the performance and because the audience is so close to the singers."
One of the common themes running through both Jon and Richard's work and that of Mid Wales Opera has been working with reduced orchestrations. Often small-scale touring opera has involved only a piano accompaniment but one of the key elements of Jon's work has been creating workable scores for full-scale opera with a smaller number of instrumentalists.
He explained: "In 1993 I produced a reduced score for Cosi Fan Tutte bringing the number of players from 30-35 down to 10 and I have been working through the canon as we have performed them – that process fits very nicely with Mid Wales Opera and the size of their touring shows.
"I think the orchestra is very much part of opera – one of the key elements to the performance and while you can deliver a show with just a piano, the orchestra for me is central not just musically but also dramatically." – Jon
"The orchestra also delivers the dramatic effect, for example, the gavotte mentioned by Scarpio in Tosca, or the bells of Rome at the top of Act 3. We had an orchestra of 12 for our recent Tosca and one reviewer said the orchestra acted as a Greek chorus – for me that is a great comment to have."
So how do Jon and Richard go about the process of putting a new production together from scratch?
Richard explained that in order to select a piece for performance, there is a whole discussion to be had about what works artistically, fits the budget and can be practically delivered. For Mid Wales Opera that means putting together a four or five-year plan making sure each Autumn and Spring tour works practically as well as artistically before the process of making the work even begins.
—
Find out more about our upcoming Autumn 2017 production of The Bear, setting off on tour this week and our Spring 2018 production of Eugene Onegin.
—
"At first we are both in our own world and then at some point, we need to come together and compare notes. Jon starts at his place with the score and I am there with my sketchbook, we come together when we start casting with big discussions around the kitchen table."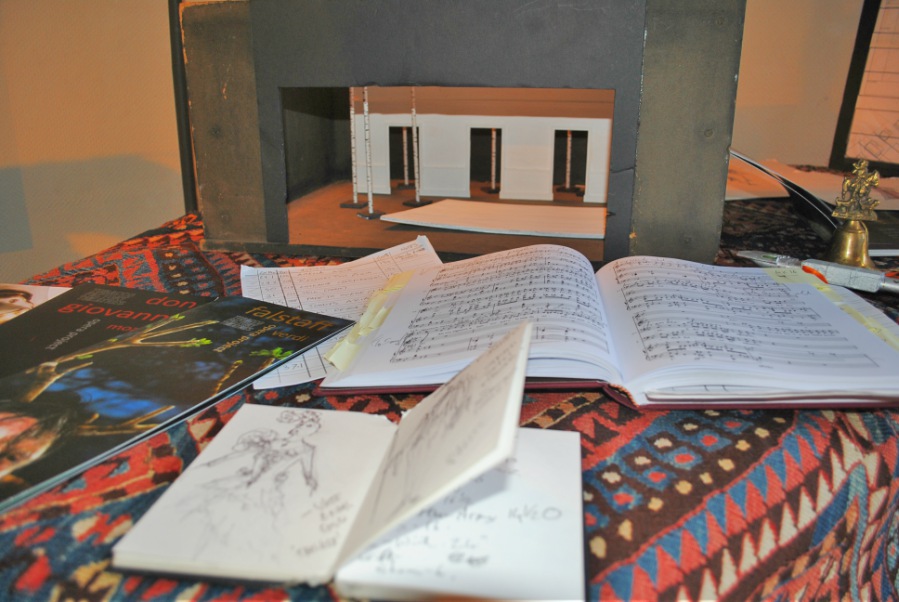 It's a long process bringing together an opera as Jon added:
"We often cast about 12 months in advance and often hear about 60 singers in two days in London then get home and go through the lists of who we have heard." – Jon
"We need to consider budgets, availability and what we can see working as an ensemble. We mostly agree – but not always!"
In terms of Richard's design for set and costume, the process begins with doodling and he constantly carries an A5 sketchbook to capture ideas as they come together. "I need three or four key designs which set the tone for the production. The score tells you the colours – it's like a Haynes manual of the opera – then I am constantly referring back to the text. Then one day I wake up and I know I am ready and at that point I will draw the show and that is what will end up on stage.
"After that, there is a whole journey from modelling the set with a white card model, a very rough shoe box sized model to make sure we have the right proportions and balance. It then builds from that when we add colours, paints, lighting design and we need to look at doors and openings to give the lighting designer something to shine through.
"There are also costumes to think about and one of the key decisions we need to make is what period the piece is set in – it needs to work within the social structure of the opera, for example, Mozart translates very well to some periods of time but not to others, it needs to have something going on socially which means, for example, women can stand up against men at that time.
"The Magic Flute is a different animal and a dream of a show for designers, you can do anything you like with it and really go wild. My version for MWO was very much a panto, with naughty nurses as the three ladies and the dragon having a picnic at the start.
"Once I have clear ideas and concept I need to hand over the whole of the design to the production team and the next time I see it, it is the size of a house." – Richard
The Bear has been a very different experience in terms of design, with stages ranging from 16 foot by 12 foot to 12 metres by 7 metres so the design has had to be completely flexible and adaptable. Richard added: "Every place we are going with The Bear has to be slightly different and it will be our job to make sure the set looks its best in every venue."
The production schedule for The Bear has also been condensed, with four days in London and three in Presteigne to get the show together – far less time than a full-scale touring show.
Richard added: "To make one hour of live opera in a rehearsal room usually takes 25-40 hours of rehearsals."  The process works quicker with fewer singers, for example, a sing with a single singer's aria is far quicker to stage and direct than a full chorus. "Once you have 30 people on stage, as soon as you turn your attention to one of them the others lose focus."
Jon and Richard's feet have barely touched the ground since they joined Mid Wales Opera – with a Magic Flute tour and Semele tour running simultaneously last Spring and The Bear and Eugene Onegin coming up this Autumn and in Spring 2018 – but they're loving the new challenges. "It's a lovely thing to be part of a small team, " Jon said "and so far it has been a fantastic experience."
Jon said: "With MWO we are in the business of building audiences right across Wales, especially younger audiences, and selling opera to people who are not at all familiar with it."
That mission is key to MWO's work as well as Jon and Richard's, as Richard explained:"It has been really very much part of our career to break as many barriers to people coming to opera as possible – that includes singing in English which is key to MWO's work.
"I have sat in audiences with people with stony faces through Donizetti and Rossini comedies and it was because they didn't understand the genuine comedy of the performance because of the language.
"We also want to take opera to places where other companies don't tour people and to really delight new audiences. One great example of that was The Magic Flute in Pontardawe – an absolutely beautiful theatre but we had to leave half the set in the lorry because the stage was so small.
"All the cast loved it there and the audience was fabulous, they clapped at every opportunity including clapping the overture and they really laughed all the way through which was wonderful for us." – Richard
—
The Bear tour has allowed us to take touring to a new level –  and really is going to the furthest corners of Wales. Richard added: "We wanted to take out a piece which offers a very gentle introduction to opera for people who have not been to an opera before. With The Bear, the text itself is really funny – for example, Smirnov's struggles as he realises he's challenged Popova to a duel but is developing quite an attachment to her:
"I'll pick her off like a partridge!  I'm not a sentimental puppy.  But what a woman! What a woman! Her eyes flashed, her cheeks shone, she accepted my challenge!  I've never seen anyone like her!  All the same, I must kill her, just as a matter of principle.  What courage what daring, she'll kill without caring!
Oh she 's all I could worship in womanhood…A kitten at play but a tigress at bay…Frail as a mouse but so lion-hearted!  Under her beauty lies gunpowder, fireworks…." – Paul Dehn's libretto for The Bear
While Jon and Richard often return to the same piece of work, each production of a show is different, depending on the cast and setting,  and for this Autumn's production of The Bear, the focus is very much on the comedy in the show.
Richard added: "The first time I did The Bear Popova was played very straight and the comedy came from that element, this time we have a superb comedienne and we're going for a Popova who starts out slightly dysfunctional but really finds her happiness and salvation in Smirnov."
"I have no doubt, once people get through the door they'll love it! It's also a very different experience of opera – so close singers are practically spitting in your lap." – Richard
The Bear's score was originally written for 25-30 players and the smallest orchestra Jon and Richard have worked with previously for The Bear was 12 in their 2003 production. In order to take the show to halls and churches right across Wales that has been reduced to five players – all part of making an affordable and accessible show which fits into a huge range of spaces on tour.
Catch The Bear on tour all over Wales and the Borders from November 2nd to December 3rd.