Richard Studer is Mid Wales Opera's new Artistic Director, joining the team alongside Music Director Jonathan Lyness and making their Mid Wales Opera debut with Mozart's The Magic Flute in Spring 2017.  Richard will be providing a glimpse into the inner workings of a production as the team work tirelessly towards opening night at The Hafren in Newtown on the 17th of February.
To say the work is varied in this business is an understatement and at this point in a production, life is pretty much 24/7 – my own fault for choosing a career as director/designer. When other directors are tucked up on a sofa with a score and a glass of something,  I'm  sorting out design issues or late night shopping for fabric, but hey – I love my job!
We have had three superb days so far this week and the cast is both lovely and brilliant. The odd thing is I never get nervous before performances or opening nights, but the day before the first rehearsal I'm crippled with anxiety – big questions haunt the wee small hours of the morning, what if Papageno isn't funny? What if they can't dance? What if we made a terrible mistake in auditions and none of them can sing?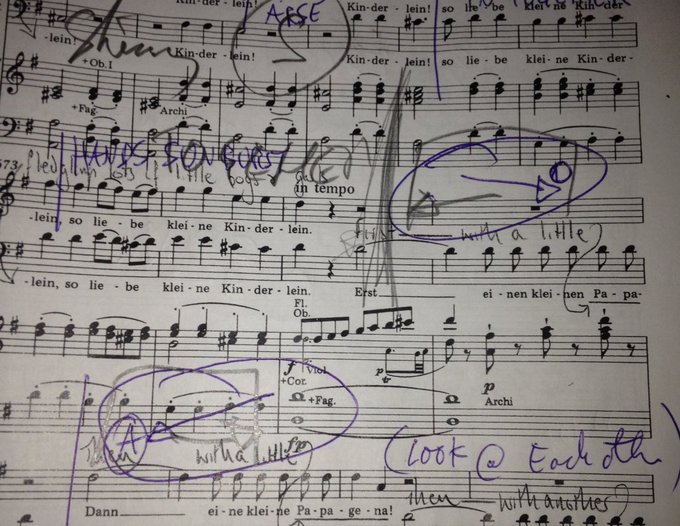 Happy to report none of these turned out to be true. The cast has delivered the show spectacularly in rehearsals so far and Jon (the conductor) and myself are coming home beaming each night. Next week our Three Ladies and the Queen of the Night rock up to cause mayhem amongst the cast we have already rehearsed – can't wait and I'll keep you posted!
Book your ticket for Mid Wales Opera's production of The Magic Flute
Newtown, The Hafren,  17th February 2017
Aberystwyth Arts Centre, 7th March 2017
Pontardawe Arts Centre, 9th March 2017
Bangor, Pontio, 26th March 2017
Newport, Riverfront 4th May 2017 (link available soon!)